Laatste successtories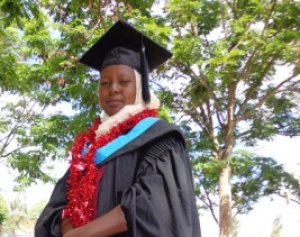 Sponsorship Successtory - 2
I was ambitious but had no chance to express my ambition to the world. This is after working hard and emerging the second best girl in my school but nobody was there to support me in my secondary education. My guardians whom I had known since I was five years could hardly afford to give us three meals in a day. I was hopeless and in darkness. Little did I know that my headteacher was busy trying to contact the Verkaart Development Team for my sponsorship.
I joined Waa Girls in 2003 and completed in 2006. I emerged amongst the best girls with a mean grade of B+. I worked for the Verkaart Foundation in 2007 and 2008 as a volunteer in Kwale girls to encourage other girls. September 2008 I joined Kenyatta University for a Bachelor Degree in Education. I completed in April 2012 and graduated in December the same year with Second Class Honours (upper division). Supposing Verkaart Foundation did not come to my aid….can you imagine the story I would have now???? Currently am working as a graduate teacher and doing my Masters in Geography Urban and Regional Planning in Kenyatta University. I still have a dream to realize that will give me the capacity to give back to the community and especially to the needy girls so that they can express their ambition to the world.
Am taking this opportunity to extend my sincere gratitude to the Verkaart Development Team for the great support towards girl child education. Much appreciation to Mr. Verkaart for the great effort towards the success of the whole project. Let my beloved sponsor, Mrs. Dumore receive the crown of honour for taking me from nobody to somebody. I will always appreciate the sacrifice to ensure I achieve my goal.
I am proud to be associated with Verkaart Foundation and vow that one day I will support a girl through her secondary school too.
TEMBE MLONGO ASHA – GRADUATE TEACHER NG,OMBENI SEC. SCHOOL