Laatste successtories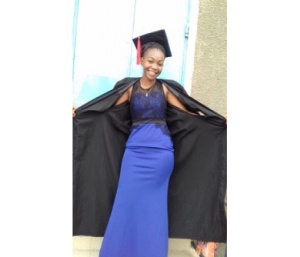 ​Sponsorship Successtory - 7
I am Maria Kimolo. Through the sponsoring of VDT (Chris Franchimon) i can go to the Franz Josef secondary school in 2007. At the end of 2010 i do my examination and imanaged to get a B (minus). I stayed out for one and half years not knowing what to do. One day I visited the late madam Beasy Mbogo and she advised me to do a course. In 2012 september I joined Egoji T.T.C.A course that took two years and I graduated with credit 3.
I was not sastified with what i attained, I joined Mount kenya univesity in 2014 august for a degree course.
The course took me 3 years and half. After that i did a 3 month teaching practise at Lukore secondary school.
It was a nice experience interacting with secondary school students. I was teaching Kiswahili and History.
I graduated in Mount Kenya University with a second class honours upper division on 7/7/2017.
I am grateful to the Verkaart Foundation group, Chris Franchimon, and anybody who assisted me to reach this far.

May the almight God bless you all.

Maria Kimolo