Latest news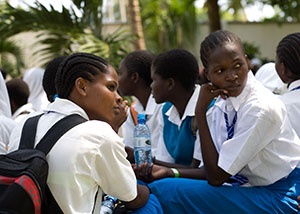 Vrouwen kunnen het verschil maken.
Recent, september 2015, werd op BNR melding gemaakt van een onderzoek dat als uitkomst had, dat middelbaar onderwijs voor meisjes, per genoten jaar, 20% meer inkomen betekent.
Hiermee wordt onze keuze om in te zetten op het onderwijs voor vrouwen feitelijk onderbouwd.
Dit betekent dat onze meisjes na vier jaar onderwijs een toekomst tegemoet gaan met een reële kans op 80% meer loon. Natuurlijk wisten wij al dat ons programma een duurzame investering in de toekomst van Kenia is. En ook dat onze Keniaanse medewerksters beweren dat al onze meiden een significant andere toekomst tegemoet gaan door onze inbreng. Het is altijd fijn als dat door onafhankelijk onderzoek wordt onderbouwd.
Hieronder halen wij nog enkele andere artikelen aan die in een zelfde richting onze investeringen rechtvaardigen.
Wij zeggen dan ook: Wij dragen zorg voor een duurzaam beter leven van Keniaanse vrouwen in Kenia.
Globalpartnership.org
The Global Partnership works to ensure that more girls enroll in school and receive a good quality education.
There is vast evidence suggesting that countries with better gender equality and less gender disparity in primary and secondary education are more likely to have higher economic growth. Some countries lose more than $1 billion a year by failing to educate girls to the same level as boys.
An educated female population increases a country's productivity and fuels economic growth.
More educated women tend to be healthier, work and earn more income, have fewer children, and provide better health care and education to their children. Girls' education literally saves millions of lives.
Unwoman.org
Increasing women and girls' education contributes to higher economic growth. Increased educational attainment accounts for about 50 per cent of the economic growth in OECD countries over the past 50 years, of which over half is due to girls having had access to higher levels of education and achieving greater equality in the number of years spent in education between men and women .